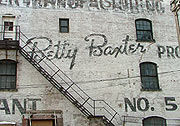 "Betty" refers to the 1940's sign we exposed on the side of the building at 9th & Jackson. Betty Baxter products were soap, being manufactured there into the 1960s. It's the first building in Dubuque to be approved for residential use in Heavy Industrial zoning. Click on the photos above to get the big picture.
Call Tim @ Wilmac 563-556-8881 with any questions, or to see the future of the Warehouse District firsthand!
See our Property Showcase page for a glimpse of what we've already done with the old warehouse right across the street @ 140 E. 9th.